Lupin the Third Nerd
ルパン・ザ・サード・ナード
(ルパン三世のおたく)

What is Lupin the Third?
Lupin the Third is, essentially, a "commercial fanfiction" spinoff of Maurice Leblanc's early-1900s Arsène Lupin mystery novels & stories. Lupin the 3rd (ルパン三世, Rupan Sansei, in Japanese) began as a comic in 1967, long before Leblanc's works were public domain around the world. But he got popular anyway, and was developed into an anime franchise that's since been exported around the world. The most famous entry in his series is Hayao Miyazaki's Lupin the Third: The Castle of Cagliostro (1979), which has a different feel from most other Lupin entries. Across 7 anime TV series, there are over 300 half-hour episodes in total. Lupin anime also has over 20 movie-length TV specials, several OVAs, several movies, and a handful of video game adaptations. There's also a CG-anime film and two live-action films (1974, 2014).
Is all this Lupin stuff any good? Can we watch it together as a family?
Regarding quality, it's all a bit subjective. There was a time when I'd say "even a bad Lupin story is better than most anime," but the newer the installment, the more that Lupin has begun to disappoint in the way other anime do. Some of my favorite entries are listed below, and I'd consider these anywhere from a B- to an A+ (on average, in the cast of the TV shows). As for accessibility/demographics: few Lupin stories are family-friendly. Some are violent, or feature brief nudity, for instance. Most of what I list here I'd classify as PG-13 at the worst. The most-family friendly standalones I list here would probably be Cagliostro and Plot of the Fuma Clan.
Do they still make Lupin shows?
Yes. There were Lupin Part 5 and Part 6 TV series, and presumably there will be more in coming years. But I haven't cared much for those TV series, which became less standalone adventure comedies and more attached to overarching plots that either aren't very compelling, or end poorly. All in my opinion, of course. Part 4 had an overarching storyline, but I felt the creators did that series carefully without being too serious, and still gave plenty of attention to one-shot stories.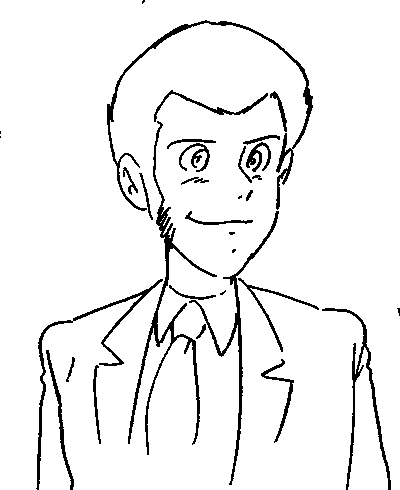 Lupin III himself (above) is joined by 3 cohorts (the dark-suited gunslinger Jigen, the stoic swordsman Goemon, and the bike-riding Fujiko) as he evades his rival, Inspector Zenigata.
Lupin the Third Selected Filmography
1971-1972 - Lupin the Third (Part I) (TV)
1977-1980 - Lupin the Third (Part II) (TV)
1985 - Lupin the Third: The Legend of the Gold of Babylon (Film #3)
1987 - Lupin the Third: Plot of the Fuma Clan (Film* #4)
1993 - Lupin the Third: Orders to Assassinate Lupin (TV Special #05)
1996 - Lupin the Third: Dead or Alive (Film #6)
1997 - Lupin the Third: [In Memory of the] Walther P38 (TV Special #09)
1998 - Lupin the Third: Tokyo Crisis (TV Special #10)
[something else probably]
2014-2015 - Lupin the Third (Part IV) (TV)
2012(?) - Lupin the Third: The Travels of Marco Polo ~Another Page~ (TV Special #??)
* Plot of the Fuma Clan is often classified as either an OVA (direct-to-video) title, a theatrical film, or both. As it was planned as an OVA and was eventually upgraded to a theatrical release, there is some debate about which it is. TMS documents it as the 4th theatrical film, but even official artbooks don't always mirror this.